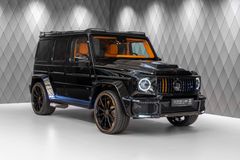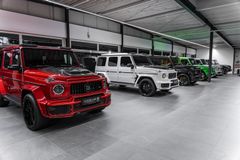 0/0
Mercedes-Benz G 63 AMG
Mercedes-Benz G 63 BRABUS G 800 BLACK/ORANGE ROCKET EXHAUST!
SUV/Geländewagen/Pickup, Gebrauchtfahrzeug
Hauptuntersuchung 2026-09
Verbrauch inner.:
22.7 l*
Verbrauch außer.:
14.9 l*
CO2 Emissionen:
363 g/km*
354.600

€
Mehrwertsteuer nicht ausweisbar
Detailinformation
Kraftstoff: Benzin
Getriebe: Automatik
Leistung: 588kW (799PS)
Zustand: Gebrauchtfahrzeug
Erstzulassung: 09/2023
nächste HU/AU: 09/2026
Farbbezeichnung: Obsidian Black
Außenfarbe: Schwarz
Innenfarbe: Andere, Vollleder
Verbrauch Komb.*: 16 l/100km
Verbrauch innerorts*: 22.7 l/100km
Verbrauch außerorts*: 14.9 l/100km
CO2-Emission komb.*: 363 g/km
Umweltplakette: 4 (Grün)
Effizienzklasse: G
Fahrzeugbeschreibung
Angeboten wird hier ein nagelneuer Mercedes AMG G63 Brabus G800 in einer besonderen Farbkombination.

Der G 63 wird in eine brutale und doch elegante Dampfwalze mit 800 PS verwandelt und überzeugt mit einem Sternenhimmel und knalligem Leder in Orange.

NETTO EXPORT PREIS!


Brabus Options:

Brabus 800 HP Kit with Bigger Turbo Chargers
Brabus Widestar Bodykit
Brabus Carbon Fibre Bonnet Attachement
Brabus Carbon Fibre LED Roof Light Bar
Brabus Carbon Fibre Spare Wheel Cover
Brabus Carbon Fibre Shifting Paddles
Brabus Rear Roof Spoiler
Brabus Sport Exhaust Chrome with Carbon Fibre Cover and Ambience Illumination
Brabus 24" Monoblock Z Wheels in Black
Brabus Double B Front Logo
Brabus illuminated Signature for Grille
Brabus Door Entrances illuminated
Brabus Foot Pedals
Brabus Door Pins
Brabus Floor Mats
Brabus Exterior Logos & Lettering


Other Changes by Luxury Cars Hamburg:

Full Leather Interior Change to Arancio Leonis Orange which includes:

Front Seats in Full Leather Arancio Leonis
Rear Seat Bench in Full Leather Arancio Leonis
Front Doors in Full Leather Arancio Leonis
Rear Doors in Full Leather Arancio Leonis
Trunk Door in Full Leather Arancio Leonis
Upper Dashboard in Full Leather Arancio Leonis
Lower Dashboard in Full Leather Arancio Leonis
Centre Console in Full Leather Arancio Leonis
A,B,C-D Pillars in Full Leather Arancio Leonis
Headliner in perforated Leather Arancio Leonis

Carbon Fibre Interior Package which includes:

Front and Rear Door Inlays Carbon Fibre
Air Vent Surroundings Carbon Fibre
Radio Surrounding Carbon Fibre
Centre Console Carbon Fibre
Speedometre Underlining Carbon Fibre
Steering Wheel Carbon Fibre


Shooting Star Headliner
Brake Calipers in Orange with 800 Lettering


Factory Options:

197 - Obisidan Black Metallic

P56 - AMG Night Package
P72 - Energizing Comfort Control
P76 - Exclusive Line Interior
P82 - URBAN GUARD Vehicle Protection Plus
PA8 - Parking Package with 360° Camera
PK2 - Active Multicontour Seat Package Plus
PT1 - Engineering Package

09U - Vehicle Monitoring
5U7 - Dark Tinted Headlamps
8B8 - Active Parking Assist
8U8 - Isofix
A20 - Adjustable Suspension
A53 - Active Lane Keep Assist
B14 - Engine Cover in Carbon Fibre
CK6 - Dark Radiator Grille
C55 - AMG Underride Guard painted in Black
C59 - Door Sills in Stainless Steel in the Front
C92 - Protective Outside Strips, Black insert
EA2 - Blind Spot Assist
EF6 - DAB Radio Tuner
EM4 - Driver Assistance Package Plus
EM7 - Rear Entertainment Package
EM8 - TV Tuner
EU4 - Comand Online Navigation
EU8 - Burmester Surround Sound System
EV1 - Smartphone Integration with Apple CarPlay & Android
EZ8 - Park Assist - Parktronic
EZ9 - Active Distance Assist - Distronic
F15 - Electric Glas Sunroof
F75 - Frameless Rearview Mirror
FB1 - Luggage Net
FR2 - Premium Ambientlighting with 64 Colours
FZ8 - Tow-Away Protection and Interior Monitoring
G44 - AMG Speedshift TCT 9G
HA1 - Air Ionisation
J25 - Widescreen Cockpit
JA9 - Traffic Sign Assist
JC0 - Instrument Panel in Leather
JP0 - PreSafe
JS1 - 360° Surround Camera
JW8 - Attention Assist
K81 - Bigger Fuel Tank (100 L)
L57 - LED Multibeam Headlights
RY6 - Tire Pressure Monitoring
SF1 - Seat Comfort Functions
SH1 - Sidebags in the Rear
T84 - Runningboards in Black
U88 - AMG Steering Wheel Buttons
V57 - Easy-Pack Load Compartment Cover
W72 - Heat Insulated Dark Tinted Glass
X22 - Model Year 2023
Y78 - Scratch Resistant Clear Coat


"Wir sind offizieller und autorisierter Brabus Vertragshändler"

"We are official and authorized Brabus Dealer"

Factory Warranty starts with the first registration of the vehicle /
die Garantie startet mit der Erstzulassung des Fahrzeuges.

Bitte vereinbaren Sie mit uns einen Besichtigungstermin, wir freuen uns auf Sie.

Gerne erstellen wir Ihnen auch ein individuelles Finanzierungsangebot.

Irrtum und Zwischenverkauf vorbehalten.
Besuchen Sie auch unsere Homepage : www.luxurycarshamburg.de

* Weitere Informationen zum offiziellen Kraftstoffverbrauch und zu den offiziellen spezifischen CO₂-Emissionen und ggf. zum Stromverbrauch neuer Pkw können dem Leitfaden über den offiziellen Kraftstoffverbrauch, die offiziellen spezifischen CO₂-Emissionen und den offiziellen Stromverbrauch neuer Pkw entnommen werden. Dieser ist an allen Verkaufsstellen und bei der Deutschen Automobil Treuhand GmbH unentgeltlich erhältlich, sowie unter www.dat.de.
Mercedes-Benz G 63 AMG
Mercedes-Benz G 63 BRABUS G 800 BLACK/ORANGE ROCKET EXHAUST!
354.600

€
Mehrwertsteuer nicht ausweisbar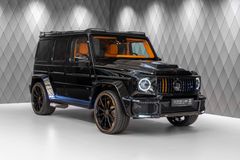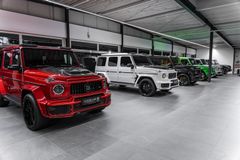 0/0
Sie interessieren sich für das Fahrzeug?